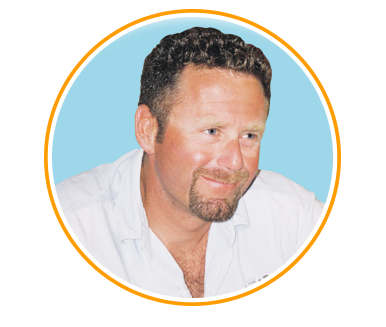 Captain James "Rollo" Heyn
August 5, 1959 – February 4, 1999
Captain Rollo's Kids at Sea is a non-profit educational organization named after Captain James "Rollo" Heyn of the long-range sportfishing boat Royal Polaris and dedicated to sending kids on marine-awareness fishing trips. Rollo was famous for his fishing skills and his life-long passion for the sport. As a youngster, Rollo worked in a tackle shop after school and on weekends, and then as a charter boat cook and deckhand during his teen years. He spent 18 years as a crewmember aboard the Royal Polaris where his reputation as a skilled angler and patient teacher grew. Rollo's extensive knowledge of and tremendous sense of enthusiasm for the fishing industry earned him a special place in the hearts of those who knew him.
It is in Rollo's memory that the  Captain Rollo's Kids at Sea seeks to introduce children to the wonderful world of fishing that Rollo so loved.
To date, we have taken over 150,000 kids fishing and have grand plans to take many, many more! Though we concentrate on disadvantaged, at-risk, disabled, and low-income children, we work with kids from all walks of life and welcome the opportunity to expose as many children as possible to fishing.