Wicked Pissah defeats Hard Merchandise in Tuna Wars VI
SAN DIEGO – National Geographic's number-one rated show is Wicked Tuna. Captain Paul Hebert of the Wicked Pissah is one of the stars of that show while he was working at the Maui Jim booth at the Fred Hall Show in Long Beach 8 years ago. As he passed along the booths, he kept hearing the name "Friends of Rollo," and "Do you know where the Rollo booth is?" As he furrowed his brow, he quizzically asked Maui Jim rep Mike Battistoni, "What the hell is a Rollo?"
Mike responded with a chuckle, that it's an organization that raises funds to send groups of kids fishing, most of them for the first time ever! Paul responded, "Wow, that's fantastic! I wish we had an organization like that in Glostah (Gloucester, MA). Do you think that there's any way that I can help them raise funds?"
So Mike and Paul worked with the Friends of Rollo and decided to have a charter boat that would take Paul and passengers out to raise funds. It turned out to be a huge success, so the next year, he convinced his buddy Dave Marciano of the Hard Merchandise to come out and help, which created Tuna Wars I. That first installment was won by Team Wicked Pissah by about 7 pounds. The contest was between the two boats to see how much the three largest tuna weighed in order to win an embroidered jacket that would stand for bragging rights at its best! The rest is history, in which thousands of kids have enjoyed the fruits of the ocean absolutely free, thanks to Captain Rollo's Kids at Sea (name change). Over 140,000 kids have benefitted from the program so far!
But back to Tuna Wars VI… Capt. Marciano departed aboard the Tomahawk and Captain Hebert saddled up on the Liberty. Evidently, Dave's boat found a night bite very close to the harbor and landed their first triple-digit before midnight on a metal jig. Paul's team kept chasing massive schools of bluefin tuna around early the next day when suddenly, regular Tuna War participant Karen Heidrick from Chula Vista landed our first fish right at 115 pounds. Soon thereafter, another repeat patron, Bernhard Ostermeier, also from Chula Vista via Germany, landed the Liberty's second tuna taping out at 122 pounds. During Bernhard's epic battle, Patrick Gee quickly decked a stray 25 pounder. Wow, the day had hardly started and Team Wicked Pissah already had accumulated 262 pounds. As it turned out, however, none of these fish would be used in the final tally.
Captain Taro's eagle eyes spotted breaking tuna in the distance and as we rolled in on them the shouts were, "BIG ONES, use the heavy line!" Kevin Suinn, another Tuna Wars supporter, soon got bit on 100-pound to 100-pound and quickly got smoked, losing all 450-plus yards of his braided line, mono and fluoro. Chasing the same school around, I hooked one of the slobs on 80-to-80-to-80 with a 2/0 circle hook on a Daiwa Saltist 50, star drag, one-speed reel. Uh oh! As my spool was rapidly shrinking, I kept tightening the star drag almost to the max, however, it kept on going toward Mexico. Deckhand Anthony Huynh quickly grabbed the rod out of my hands and got on his knees, tightened the star drag, tightened the knob controlling the spool, locked the Proteus rod on the rail and proceeded to finally stop the fish very close to the end of the Daiwa J-Braid. He handed the rod back to me and I was able to gain line back into the reel as I walked to the bow where Patrick Gee was hooked to his second fish. Luckily, Patrick's was in a death spiral while mine was still a long way straight out from the boat, so I was able to gain most of the line back while using the anchor winch for leverage. It was tough going winding with tennis elbow, but the adrenaline kept me going until it got into a two-fish tango with Patrick's.
During these extended battles, Captain Takeuchi and deckhand Paul Santos had hooked another giant on the kite. Two previous ones had been lost during the battles, so this one was a must to land. Expert angler Mike Lum, Event and Fund Raising Director for Captain Rollo's Kids, was on it and landed that fattie expeditiously on the proper gear. It was caught on a Shimano 2-speed reel and Calstar rod which jumped to the front of our line as it taped out at 202 pounds.
Deckhand Paul Santos quickly grabbed my rod and proceeded to rail on my fish surviving two tangles with other anglers snagging the lines of the two hooked fish, pulling them together into another tangle. Soon after Paul and Anthony cleared the mess, Patrick landed his 111 pounder near the stern and Paul was chasing mine all around the boat while pulling on it so hard I nicknamed him "Animal." Once it was landed, it taped out to 201 pounds on the boat, however, after all the fish were gilled and gutted, it turned out to be the largest of both boats at 174 pounds.
Another kite fish was hooked by the Captain and crew, which was quickly landed by Oceanside's John Plaziac and taped at 185 pounds and turned out to be the Liberty's 3rd largest bluefin tuna. That was just day one, which had its share of about 8 casualties. An excellent dinner prepared by Sara Grose consisted of smoked tri-tip beef, garlic mashed potatoes, corn and a chocolate mousse brownie. Oh man, did I sleep well!
Day two of fishing saw much of the same as we kept chasing the elusive bluefin, as Vista's Tommy Littell decked a 30 pounder as well as a 172 pound brute! Once again, good luck charm Bernhard Ostermeier landed his second beast taping at 188 pounds. Bernhard is Team Wicked Pissah's good luck charm as he has weighed in one of the three largest fish on his boat three times. This time, however, he got nosed out by 1 pound, not a bad thing though. I'd take two over 100 pounds any time, any day, any place!
One of the best stories of the trip was John Duquin from Upland, who is deaf and cannot hear other fishermen as they yell out instructions. He hooked and landed the final fish for our team which taped out at 181 pounds on the Liberty. The rod he utilized was a 665 Sabre that he purchased from our own Mike Lum, who was working at the Stockade in 1974.
We wrapped up fishing at 2:15 so that we could make the 5:00 soft deadline to have the fish weighed in by Sean at Fisherman's Processing. Team Wicked Pissah's total weight of their 3 gilled and gutted bluefin was 514.7 pounds. Team Hard Merchandise's weight was also a hefty 483.6 pounds, a mere 31.1 pounds difference, or only 6%. The difference in Tuna Wars VI was 90 pounds or 22%. Congratulations to Captains Paul Hebert and Taro Takeuchi for all their hard work and dedication in raising funds to send kids fishing. A noble cause indeed!
It is impossible to name all who contributed into making this event so successful, but I would be remiss in not thanking the creator of this organization, Frank LoPreste, who continues to honor the memory of his protégé Captain James "Rollo" Heyn, who tragically passed away in 1999. As stated earlier in this article, over 140,000 kids have been sent fishing thanks to the Captain Rollo's Kids at Sea program since its inception in 1999. Thanks to all who have donated prizes and money to allow the underprivileged and handicapped children to enjoy the wonders of our oceans! Thanks also to Chanda Rella, Wicked Pissah Enterprises agent, who provided several of the photo shots. Sign-ups for 2022 are rolling in as we speak since both Paul and Dave have committed to coming out again next year! A huge thank you to both of them. Please visit www.Captainrollos.org for more on this great organization.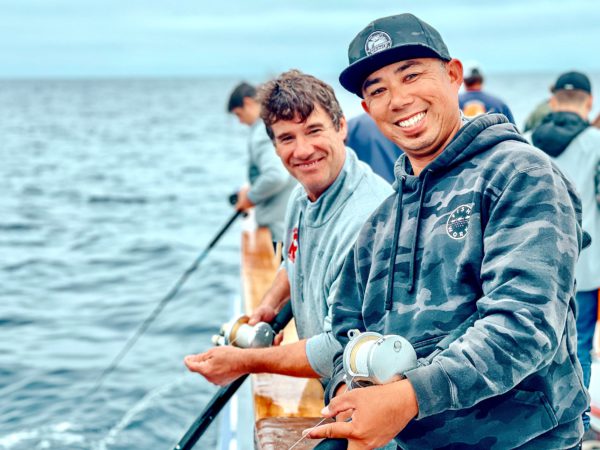 WINNING CAPTAINS PAUL Hebert of the Wicked Pissah and Captain Taro Takeuchi of the Liberty have a touching moment at the rail trying to induce on the giants to take a baited hook. TUNA WARS VI winners. (Photo by Chanda Rella)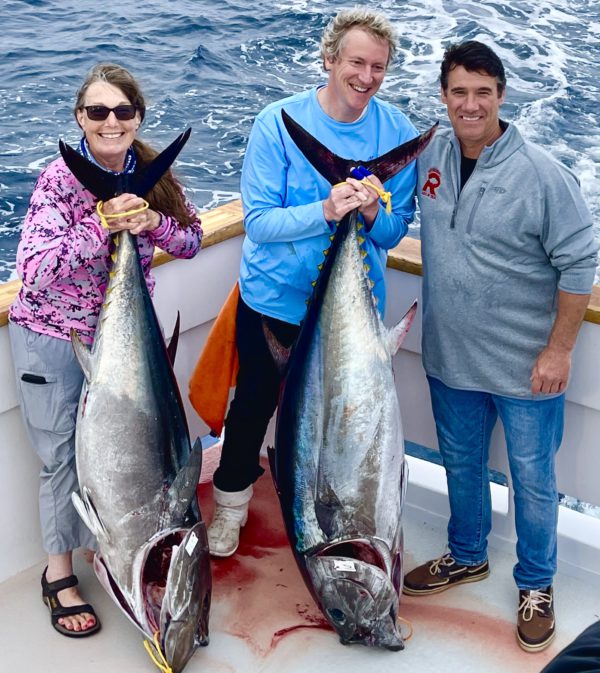 KAREN HEIDRICK AND Bernhard Ostermeier are both regulars on Team Wicked Pissah, both reside in Chula Vista, and both are important to the support of Captain Rollo's Kids at Sea. Once again, they display their imposing catches in this unbelievable cycle of giant bluefin tuna. Captain Paul Hebert stands beside them on the stern of Captain Taro's Liberty. Photo by Chanda Rella.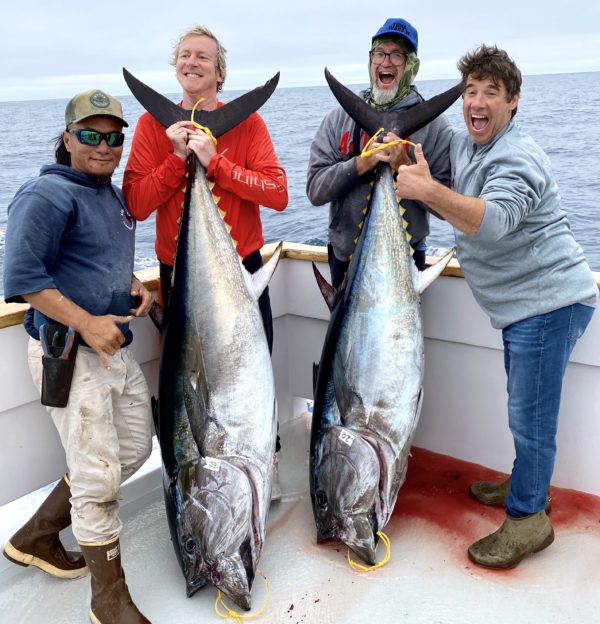 DECKHAND ANTHONY HUYNH looks chill on the rail as Bernard Ostermeier holds his second tuna taping at 188 pounds. Deaf angler John Duquin gives a victory cry as he lands his only bite weighing 181 pounds while Paul Hebert does enough yelling for both of them!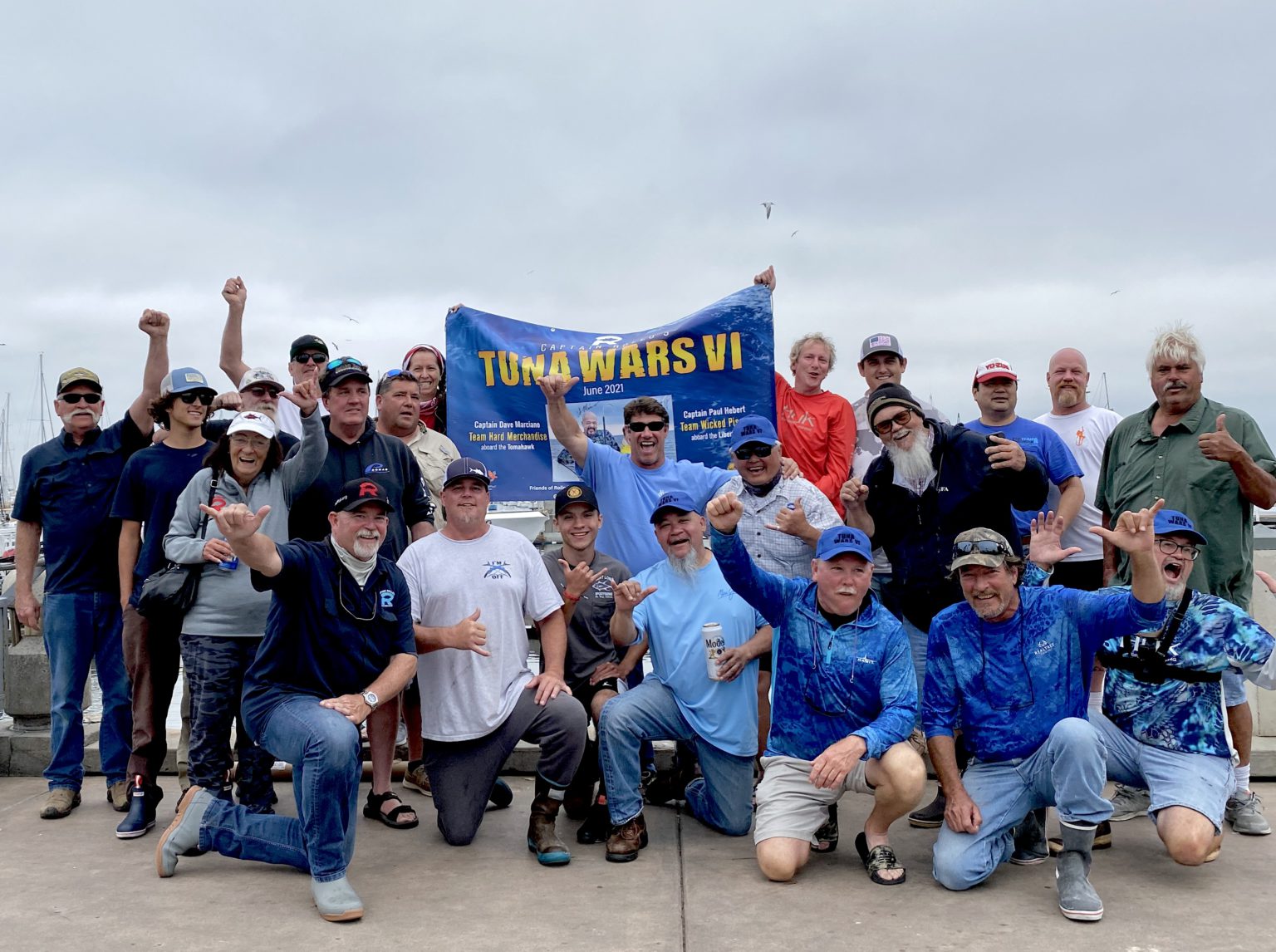 TEAM WICKED PISSAH sings out to "We are the champions" when it's discovered that they had out-weighed team Hard Merchandise by 514.7 pounds to 483.6 pounds. Photo by Chanda Rella